Dishwasher Installation Cost
Total Installation Cost Range:
$650 - $2,100
Average Materials Cost:
Average Labor Cost:
Avg. Time to Complete:
1-2 Hours for 1 Installer
Usually Includes: Dishwasher, Installation, Labor, Supplies, Tools and Disposal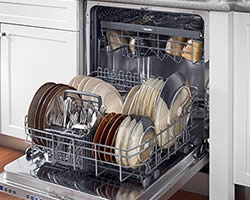 Dishwashers have become almost a kitchen necessity with the busy lifestyles most of us lead. So when your dishwasher needs to be repaired, you may consider replacing it instead since most dishwashers last quite a few years. Most dishwashers should be installed by a plumbing contractor, especially if you are upgrading to a top of the line model. A plumber can complete a dishwasher installation within a couple of hours and he usually will not require a helper.
Having a dishwasher installed and the cost to have it installed is determined by many factors. In our Dishwasher Installation Cost Guide, we take a look at total installation process, tools and skills needed, when having a dishwasher installed. We also include items that are included in dishwasher installation costs.
Items Usually Included in Price Estimate
The following items are routinely included in most dishwasher installation estimates:
Cost of the dishwasher you prefer (Recommend reading reviews and shopping at home improvement stores so you have an idea of the cost of goods)
Plumber labor costs
Dishwasher delivery costs
Plumbing parts, tools and supplies
Disposal of old dishwasher
Electrical tools and supplies

Factors that Effect Installation Costs
Dishwasher installation costs are effected by several different things. Which dishwasher and features you decide to have installed, if it will be placed in a different location and also if there will be a need for electrical services.  If, for example, you are completing a kitchen remodel and you prefer to have your dishwasher placed in a different location or if you buy a dishwasher that is bigger or smaller than the original, you may need to have the plumbing extended or even use the services of someone in construction to adjust cabinets and countertops.
Other factors include:
Dishwasher size
Current workload on contractor
Re-routing plumbing or pipes
Disposal fees
Construction fees for adustments to cabinets or countertops
Changing or adding electrical boxes
Optional items like a Garbage disposal
Installation Cost Savings!
Saving money on the installation of your dishwasher is quite easy to do. All things considered, you should have a plumber install the dishwasher, but there are always ways to save a bit of cash.
Compare prices online and purchase the dishwasher yourself
Dispose of the dishwasher yourself
Ask the plumber if you can help out
The installation cost of a new dishwasher can be raised or lowered depending upon how much you pay for dishwasher and how much the plumber charges to come out and install. Contact several plumbing contractors for multiple price quotes. Do online research or talk to friends about their experience and you will have better questions to ask the contractor.
Learn More about Dishwasher Installation
This Old House – Easy instructions for installing your own dishwasher. This guide includes the various tools you will need as well as the plumbing and electrical skills that you should have before installation.
Home Depot – Explains the ins and outs of installing your own dishwasher and how you should plan before you start the installation.
MonkeySee – A complete set of videos that explains everything from how to make electrical connections to installing a drain line.
Have you recently has a new dishwasher installed? If so, please consider sharing your experience with us and other readers. Click here to use our submission form and tell us all about your own dishwasher installation costs.
Tagged With:
dish washer
,
dishwasher
,
kitchen
,
plumbers