Garage Door Opener Installation Cost
Total Installation Cost Range:
$750 - $2,500
Average Materials Cost:
Average Labor Cost:
Avg. Time to Complete:
3-5 hours, 1 Installer
Usually Includes: Garage Door Opener, Installation Hardware, Supplies and Labor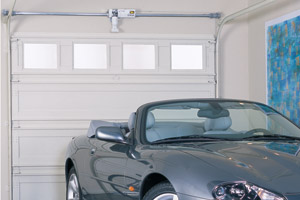 Having a garage door opener, whether it is a belt driven, chain driven or screw driven opener, adds to the convenience of having a garage at your home. In addition, a garage with a functioning garage door opener will also offer added security, making it more difficult to gain access to your home. Much like a patio door, most garage door openers can be installed in 3-5 hours, only requiring 1 installer.
In this garage door opener installation cost guide article, we will talk about all the factors that might effect the price of that garage door opener installation project. You will come away knowledgeable on any skills and tools that are needed,  what the installation process looks like, what's included in the cost and how your garage door opener installation project cost could be affected based on various items.
Items Usually Included in Price Estimate
These items will  included in most garage door opener estimates:
Garage door opener price (usually comes in a kit)
Materials and tools  (including lumber for shims and mounting board if needed)
Labor costs
Prep and cleanup
The cost to install a garage door opener is not inclusive of the items listed above. There are other tools and parts that will be utilized by the person that installs garage door openers. Most of the items below are commonplace in households and should be handy if you want to complete the installation on your own. Safety is key when using any tools, so make sure you know how to handle your tools safely.
Regular hand tools (hammer, measuring tape, screwdriver, pliers, adjustable wrench)
Electric drill & drill bits
Wire cutters
Ratchet set
Factors that Effect Installation Costs
Multiple factors can effect the total garage door opener installation cost. Which garage door opener you purchase and whether you have a single or double garage.  For example, if you have 2 separate garage doors that function on their own, you should remember that you will need to purchase (2) kits. You may also consider purchasing a new garage door that covers the entire area. Take into account that if you decide to install a single garage door, there may be separator walls that need to be removed. You would need to hire a contractor with a construction background. You may also need the services of someone with electrical experience, as you should have a GFCI outlet (Ground Fault Circuit Interrupter) in close proximity.
Other factors include:
Single or double garage
Installation of sensors
If additional receptacles or outlets need to be installed
If siding replacement or paint touchup is needed on the exterior
Contractor availability
Save on Installation Costs!
Saving money when having any work done around the home is always a good thing and there are ways you could save on your garage door opener installation. Generally, it should be a general contractor or handyman that installs a Garage Door Opener for you, but in the event you decide to complete the project on your own, here are a few things to consider.
Garage door opener kits are readily available online so do a little research to find discounts.
There is a lot that can be learned by a contractor, so there is no harm in asking if they need some help.
Complete prep and clean up work.
Compare estimates from several contractors before making a decision
Learn More about Garage Door Opener Installation
Bob Villa – Informational video on installing a garage door opener by one of the best in the business, Bob Villa.
Homeguides – Safety sensors are included in all new garage door opener kits and Homeguides gives you detailed information on how to install your sensors correctly.
The Home Improvement Web – Written by True Value Hardware experts, this guide walks you through the installation of your garage door opener.
Did you have a good experience with a contractor? Did you complete your own garage door opener installation? Let us know over at our contact form so we can share with our readers!
Tagged With:
door opener
,
garage
,
garage door
,
garage door opener