Gutter Installation Cost
Total Installation Cost Range:
$480 - $3,500
Average Materials Cost:
$3.50 - $7.00 / Linear foot
Average Labor Cost:
$4.00 - $12.00 / Linear foot
Avg. Time to Complete:
6-8 Hours, 1-2 Installers
Usually Includes: Rain Gutters, Downspouts, Installation Hardware, Supplies and Labor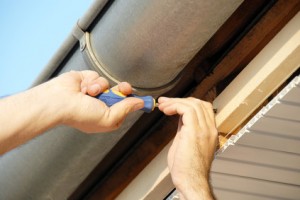 When you have aluminum, steel, copper or vinyl gutters installed on your home, you help keep your home protected by diverting the water away from the basement and foundation. Water that pours onto your home can cause the walls in your home to be damaged and also cause your foundation to lose its integrity. Most rain gutters should be installed by a roofer and in most cases, they should be able to complete the installation in 7-8 hours. This installation will usually require at least 2 installation experts.
Included in our gutter installation cost guides page, we'll help you understand the tools that will be needed and other items that might effect the overall price of installing gutters.
Items Usually Included in Price Estimate
Gutter replacement estimates will usually include these items:
Type of gutters you choose and the extended cost (actual materials are calculated per foot)
Supplies, tools and parts
Cost of labor to fabricate and install
Cost to deliver
Preparation and clean-up
Price to dispose of old gutters and materials
The primary materials and parts are listed above, but the cost to install gutters could include other supplies and specialized tools. These items are commonly used by a roofer or handyman who installs gutters. Choosing to make this a DIY project means you should purchase or have access to our list of supplies and tools below, as well as know how to use them safely.
Common hand tools (ratchet wrench,pliers, tape measure)
Hacksaw
Driver w/ Nut Drives
Aviation Snips
Electric Drill
Miter Saw
Ladder tall enough to reach gutters safely

Factors that Effect Installation Costs
Many factors might effect your total gutter installation cost. What gutters you purchase, from the less expensive aluminum or vinyl to the more expensive cooper, steel or wood.  In addition, if you have a single story home, you can expect to pay more for your gutters since they tend to have more roof edges than a 2 or 3 story home.
Other factors include:
Choice of seamless or sectional gutters
Downspouts
Gutter guards and screens
If any work is needed on the exterior such as replacing rotten siding or restoring finishes that were cut away during the install
Contractor workloads
Save on Installation Costs!
Give some consideration to our list below if you would like to save on the overall cost of your gutter installation. In most likelihood, you will hire a qualified roofer who knows what they are doing, but if you know a bit about roofs, you could do it yourself and along with some help, save on the total cost.
Check prices online and purchase.
Check with neighbors to see if they need new gutters as well. You may be able to get a discount for multiple jobs on the same street.
Offer to help the contractor.
Dispose of old gutters yourself.
It's very important to do advance research on any work you want to have completed around your home. This way you are able to ask each contractor important questions that could possible help lower your cost. Uneducated buyers can unfortunately end up spending much more than what is needed to do the job. You will also get the answers you need most, like the size gutters you need, what type is the best for your home and also how to save a little money in the gutter installation process.
Learn More about Gutter Installation
Learn something you didn't already know about the process of new gutter installation by viewing our links below. These are helpful websites that discuss problems that could happen if completing the project yourself, how to go about choosing your new gutters and the importance of  getting at least 3 gutter installation cost estimates from roofing contractors.
Home Advisor – The new site for ServiceMagic recently added a guide to gutter costs that cover cleaning, replacement and several other tasks related to gutter costs.
The Housing Forum – Do it yourself instructions on how to install your own rain gutters correctly and make them last.
Master Kraft Roofing – Nice video that addresses the number one cause for wood-rot and mold associated with the standard typical gutter installation.
Gutter Helmet – Helpful information about how to choose your gutters, installation information and how to maintain your rain gutters.
Your experience, whether good or bad, could help our readers! If you wouldn't mind sharing, take a moment to email us via our user contact form about your own rain gutter installation cost story.
Tagged With:
downspouts
,
gutters
,
home gutters
,
rain gutters