Water Heater Installation Cost
Total Installation Cost Range:
$350-$1,000
Average Materials Cost:
Average Labor Cost:
Avg. Time to Complete:
2-4 Hours, 2 Installers
Usually Includes: Water Heater, Removal and Disposal, Installation and Supplies to Complete Project.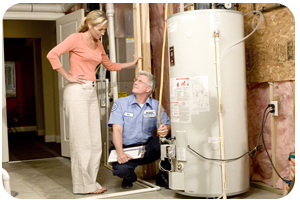 Honestly, there nothing more frustrating than having no hot water in your home. When your water heater fails and needs to be replaced, you have quite a few different choices. There are gas and electric hot water heaters and tankless water heaters as well.  Based on your fuel type, size specification and budget, you should be able to find one that is perfect for your home.
A new water heater is usually installed by a plumbing professional or HVAC installer who have the specialty tools and skills to get the project completed fairly quickly – usually 3-4 hours. Larger size water heaters may require the installers to build a new platform for it to sit on top off, making for a more lengthy process and the use of installers that have some basic building skills.
In this Installation Cost Guide, we'll help you understand what goes into the cost of water heater installation for your home. We will also share information about the options that could increase the price, what should be included in every installation estimate, ways you can save on a new water heater as well as the approximate cost you should expect to pay for the entire installation. If you recently had a water heater replaced in your home, share it with us on our recent projects page – this will help other readers as well.

Usually Included in the Installation Cost?
When a new water heater is installed, it all begins with the Plumber or HVAC Contractor visiting your home and estimating the proper size and needs for you and your family. They will ask you questions about whether the old unit performed as you expected, how often you ran out of hot water, and whether or not you were happy overall with the performance and size of the old water heater.
When they prepare a detailed estimate of the water heater installation cost, it will usually include:
New Water Heater (This article covers

tank style

water heaters)
Drain or Overflow Pan for Under Unit
All Connectors to Attach to Flue if Needed
All Copper or Pex Piping Used to Plumb the New Unit Into Existing Home Plumbing
Electrical Wiring, Breakers, and All Electrical Needs
Removal and Disposal of Old Water Heater, Pipes and Venting Equipment
Pressure Relief Valve
All Required Tools Needed for the Project
Labor for 2 Workers to Complete Project
In addition to the items above, the water heater installation crew will likely make use of the following tools and supplies for getting your job done:
Water and gas piping (copper or pex pipe)
Fittings
Soldering equipment
Discharge pipes
Venting pipe and connectors
Supplies for building a stable platform (if needed)
You should have the above tools and supplies if you want to complete the job yourself. In addition to those, you should also have:
Tape measure
Voltage tester
Pipe wrench
4-in-1 screwdriver
Adjustable wrench
Electrical tape
Tube cutter
Wire stripper/cutter
Plumbers tape
Safety glasses
Soldering torch
Garden hose to drain old unit
At least 1 helper
Things That May Effect the Cost
There are several factors that will determine why you pay more for your water heater installation including:
Age of Existing Water Heater – If you have a very old and dirty water heater, it can require extra care during the removal.
Size of the Job – If installation will be in a fairly large home or business, you may have added costs.
Condition of the Floor – If your old water heater has been in place for many years, there could be corrosion underneath or flooring that needs to be replaced.
Type of New Water Heater – Higher quality water heaters can vary greatly based on size and efficiency.
Water Heater Size – A larger tank may require plumbing changes, or electrical changes for those types of heaters.
Hard to Reach Spaces – Water heater installation in a very small attic or oddly placed storage closet to sometimes add to the labor cost.
If you know other factors that can affect the cost to have a water heater installed, please share them with us.
How to Save Money on Water Heater Installation
Do you want to save money on water heater installation costs? Of course you do… everyone does! Use the following tips below to help cut costs on having your new water heater installed.
Buy Your New Water Heater Online and Look For Discounts
Pick up and Deliver The Water To Your Home
Pay in Cash
Remove the Old Water Heater Yourself
Remove and Build a More Stable Base for the New Water Heater
Offer to Supply Yourself as a Laborer on the Project
Clean up and Dispose of the Old Water Heater
Replace the current heater before it fails, thus taking out the emergency need of the replacement.
Saving money on new water heater is easy to do, but you must be willing to hold out for the best price. Always get several competitive quotes from local companies (click here for free estimates), and don't be afraid to visit big-box stores like Sears, Lowes or Home Depot to comparison shop for the best water heater installation prices.
Learn More
Whether you want to learn more about the cost to install a water heater, the process of having a water heater put into your home, or have other questions, the resources below can help you understand more. If you would like to suggest a site we should include in our list, please go to the contact page and do so.
Watts.com – Find all the water heater installations products you need in one place; from drain tubes to water heater stands, they have what you need.
This Old House – If you choose a DIY installation, this website has a great instructional video with step by step instructions.
Water Heater Price Guide – Cost breakdowns for all types of residential water heaters.
Cost Owl – Tank versus tankless water heaters.
Consumer Energy Center – Information on how to choose the right water heater for your needs and also tips about energy efficient appliances.
Tagged With:
hot water
,
tank heater
,
tank hot water
,
water heater