Carpet Installation Cost Comparison
Total Installation Cost Range:
$12-$40 Per Square Yard, Installed
Average Materials Cost:
Average Labor Cost:
Avg. Time to Complete:
6-8 Hours for 2-4 Workers
Usually Includes: Carpet, Padding, Removal and Disposal, Installation and Supplies to Complete Project.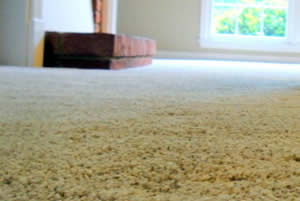 Having new carpet installed at your home is one of the quickest ways to bring a new life to any area. With literally hundreds of color choices, styles and types of carpeting commonly used in residential flooring, you are only limited by your imagination, your budget for carpet installation cost, and the willingness to be put out for a day or two, during the carpet installation.
New carpet is usually installed by flooring professionals who can get the project completed in one day in most cases. Larger homes, or homes with several rooms being done at once, may take the carpet installers longer to complete due to the size of the project.
After you read this Installation Cost Guide, you will understand more about what goes into the cost of carpet installation for wall to wall carpeting in your home. We will answer questions like:
What will decrease or  increase the cost?
How can I save money on the installation or new carpet?
What will be included in my carpet installation estimate?
What is the approximate cost per square yard for installation.
What's Usually Included in the Cost?
When you have new rugs put into your home, it all begins with the carpet installers coming out and measuring the floor space in your house. They need fairly exact measurements so they can prepare a detailed carpet installation estimate, based on the square feet of the area being installed. In addition, they need to know what type of sub-floor you have in your home, wood or concrete, so they can bring the proper nail strips, transitions to connecting floor surfaces (carpet to tile for instance), as well as what type and how much padding is going to be needed.
Detailed estimates of the carpet installation costs  normally includes:
Carpeting in the Style and Color of Choice
All Carpet Padding needed for Under the Rug
Edge Nailing Strips (As needed) to Fasten the new Carpet to Floor
All Transition Strips Needed to Connect to other Floor Areas
Seaming Strips to Connect Larger Pieces Together
Removal and Disposal of all Old Carpet and Padding as Needed
Movement of all Furnishings in the Rooms Having New Carpet Installed
Adjust or Trim Doors to Glide Across new Carpet as Needed
All Labor costs for 2-4 Workers
The carpet installer will usually make use of the following specialized tools and equipment to get your job done.
Carpet Dolly – A tool for moving large and long rolls of carpeting easily.
Carpet Knives – Curved cutting tool to make cutting carpet easier.
Large Scissors – For cutting the thicker rug material.
Knee Kicker and Stretcher – Tool used to stretch the carpet to the edges and seat it onto the nailer strips.
Seam Rolling Tool – For joining large sections of carpet to each other.
Carpet Iron for Seaming Joints – Used to heat the glue stripping that seams the carpet.
Base Molding Tools – For lifting and setting the edge floor moldings around the room.
Stair Tools – For setting the carpet into the edges of stairs and steps.
Factors that Effect Cost & Installation
Why might you pay more for your carpet installation than your neighbor did? There are several reasons for this. For instance, if you have stairs in your home, or you have stairs with corners in the middle (5 steps, a small landing, then 5 more stairs, etc) it will make the installation a harder task. Along with obvious difficulty levels, look at what else can cause your carpet installation to cost more.
Size of the Job – You'll pay a higher $/sq-yard to have carpet installed in one room, than you will to do several rooms at once.  When you get your carpet installation estimate, ask for each room separately, then the whole house at the same time.
Age of Existing Carpet – Extra care may be needed if your carpet is particularly dirty (moldy) or deteriorating.
Type of Subfloors – Concrete is harder to nail down edge strips, extending the time to install.
Number of Stairs or Staircases – If you have several sets of stairs up or down to other levels of your home, it will increase the cost.
Cutting or Door Bottoms – On some new carpeting, the bottoms of the doors may need to be trimmed down to allow them to slide across thicker rugs.
Type of New Carpet – Higher quality carpets require different methods of seaming, attaching, etc.
Room Shapes & Corners – If you have several different shapes to your rooms, they may charge more to allow for various cuts, etc.
Time of Year – If you install carpeting during the slower construction months of Oct-March, you will likely get a better deal due to the companies working at a lower rate, just to get the work.
Ways to Save Money on Carpet Installation
Cut costs and save money on that carpet installation by following some of these tips:
Buy New Carpeting During the Slow Season of Oct-March
Replace the Rugs in Your Entire House at the Same Time
Ask for the Lowest Possible Price
Take care of removing old carpet yourself
Remove and Replace all Moldings and Trim Yourself
There are many ways to save money on getting new carpets and having them installed. Always get at least 3 estimates and ask lots of questions before you make a decision.
Learn More
We have listed some resources below that could help you understand more about carpet installation processes and the overall cost to install. To suggest we add a site to our list, please email us on our contact page so we can take a look at your website!
Colorado State University – Guide to selecting carpeting, the types of carpets and many other factors based on research.
Color Your Carpet – Has a nice checklist of sorts, to help you buy the right carpet for your home, as well as hire a competent and qualified carpet installation company.
Random History – Interesting facts about carpeting in homes. Some of them are kinda gross, like how long a virus or bug can live in a carpet, but a fun read.
HomeWyse – Has a nifty little cost calculator that is zip code based, so you can plug-in your home zip code, enter the approximate square feet of the area to be installed and get a very rough cost estimate.
Fixr – Shares a brief set of tips for having carpet installed, as well as a zip code function for looking up local companies who will handle the job.
Tagged With:
carpet
,
carpet cost
,
carpet installation
,
carpeting
,
flooring
,
rugs
,
wall to wall carpet