Help Wanted from Installation Pro's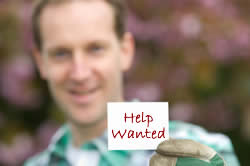 The detailed installation project and cost guides on our site could not happen without the help of industry professionals. Simply put, there's no way we can do it all ourselves, and we rely on the knowledge, feedback, and experience of professional installers and contractors in various trades. We're currently looking for help from the following installation pro's who service the residential or consumer driven markets throughout the USA.
Handyman, Carpentry, and Do-All Type General Contractors.
Heating, Air Conditioning, Plumbing and HVAC.
Painting and Wall Covering.
Electricians, Networks, and Other Home Wiring Professionals.
Flooring, Ceramic Tile, and Roofing Professionals.
Landscaping, Cleaning, Outdoors Living.
Fences, Decks, Patios and Driveway Installers.
… much more
Benefits Our Partners Enjoy
The InstallationCosts.com website is a nationally syndicated consumer guide. Our project guides are commonly mentioned, linked to and shared by consumers and leading news sources throughout the USA. You could almost say that we're a platform for you and your business to share your knowledge, and enjoy a permanent place in the spotlight within one of our project guides.
As our Professional Partner, you'll enjoy these Free Benefits:
Be the Expert Contributor in Your Chosen Field, in Your Area, and In Your Own Market!
Being the Expert Contractor Provides Free Marketing for Your Website and Business!
Help Consumers Understand More About Your Trade and Specific Project Tasks!
How You Can Get Started
Being a Pro at InstallationCosts.com is easy. What we're looking for involves your expert knowledge, to help us with both existing and future project guides. Look at the ways to get started now:
Contribute to Existing Project Cost Guides – Find your favorite guide and join the discussion section at the bottom of that specific page. Share your own ideas, help with corrections or write any other relevant content you feel will help other readers.
Help Us on New Project Guides – Go to the Project Submission page, tell us a bit of info about your company, and complete the information form with the projects you want to help with.
Link to Your Favorite Pages – Find your favorite pages on our site and link to them from your website. If you need help, just shoot us an email, we're glad to supply the linking code for you.
Share Our Site on your Facebook Page - at the end of every article on our site we have several social network buttons in place to help you share the page. Click the Facebook button and share, it's easy!