Split Rail Fence Installation Cost
Total Installation Cost Range:
$12 - $18 Per Linear Foot
Average Materials Cost:
$4 - $8 Per Foot
Average Labor Cost:
$1,700-$2,500 for a 200-300 Foot Fence
Avg. Time to Complete:
1-2 Days for a Pro to Install 200-300 Feet of Fencing
Usually Includes: Materials and Labor, Posts, Rails, Concrete and Wire as Needed. Permits and Inspections as Needed, as well as Underground Utility Location.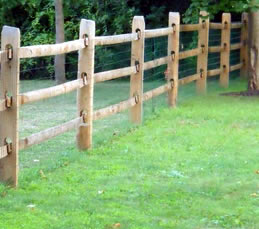 Split rail fence, which is also commonly referred to as post and rail fence, is one of the most common and affordable types of fencing installed by homeowners. Not only does it look great for many years, they provide a great way to keep your pets fenced in and prevent unwanted visitors out of your yard.
Installation of split rail fencing is generally handled by a fence company, but this project is also perfect for your neighborhood handyman as well. If you're handy yourself, installation is a great DIY project for those who are  not afraid to take on a large project, have a truck for supplies and the tools to get it done. Depending on the size of your yard and the type of soil, you can expect a professional to install 200-300 feet of split rail fence per day with a crew of 2-4 workers.
We are going to breakdown and compare split rail fence installation costs around your yard in this Installation Cost Guide. We'll cover the various types of wooden split fences and their cost differences, as well as what you can expect a contractor to provide as part of the split rail fence cost if you choose to use a professional to handle the project. We encourage you, as a homeowner, to join the discussion in the comments section and share your own costs and ideas to help make this page for everyone.

Usually Included in Estimates
Getting a quote from fencing companies will usually take the guesswork out of what you're getting for your money. However, not all quotes have a detailed breakdown of the split rail fence cost. Listed below are the most common supplies and materials you should see listed on your quote or estimate.
Type

of split rail fence being installed. (wood, vinyl, post and rail, rough cut, etc)
Number, and length of rails on the fence. (2 or 3 horizontal rails are most common, and they are sold in 8 or 11 foot lengths)
Total linear feet of fencing needed for the project. (this is the measurement of the perimeter of the fence)
Number, and width of gates being installed. (If you have a riding mower, make sure it will fit through)
Amount and type of wire being used. (if applicable)
Specification for how posts will be installed and how many will be encased in concrete under ground. (Usually every other post, plus corners and gate posts)
Installation guarantee or warranty on workmanship.
Permits and inspections as needed by local code. (may be required to locate property boundries)
Underground utility line locator service fees.
All labor to install a split rail fence, as well as the approximate amount of time it will take.
Tools and Specialized Equipment Needed
Split rail fencing is not a technically hard project for a homeowner to take on themselves, however there are a number of skills and project-specific tools you may need to get it done properly. The list below is most commonly used during a split rail fence installation.
Common hand tools (hammer, tape measure, pencil, shovel, rake, etc)
Roll of string or twine, as well as stakes to layout out fence location in straight lines.
Spray paint for marking post hole locations.
Wheelbarrow to remove excess dirt and mix concrete.
Pickup truck for supplies and materials.
Gas powered post hole digger. (Available for rent at many big-box stores like Lowes or Home Depot)
Hand post hole digger.
Circular saw for building gates.
Chainsaw for cutting rough ends of rails and custom fitting.
Powered drill or cordless driver.
Factors that Affect Cost
Whether you choose to install your own split rail fence or have it done by a local professional, there are going to be several factors that affect the cost you pay.
Height of Fence – Posts are available in both 5 and 7 foot lengths. A 5 foot post will net roughly a 3-4 foot tall finished fence with 2 horizontal rails, and a 7 foot post has a finished height of 4-6 feet, with 3 horizontal rails.
Linear Length of Fence – Plain and simple, the more area you wish to have fenced in, the higher the materials and  installation cost are going to be. The contractor will get a measuring wheel and walk the exact perimeter of where you want your fence located around your yard in order to get the linear feet of fencing needed for the project.
Gates Sizes and Number – If you only need one, 3-foot wide gate, you'll pay less than someone who needs one, 8 foot wide gate and two other 4 foot wide gates for their yard mowers or other larger items to get through.

Note*

– Plan ahead when having your gates built. You may not have a riding mower today, or need to get a pickup truck into your yard for any reason now. But you may in the future.
Condition of Soil and Ground Characteristics – If you live in a very rocky area, it may be harder for the post holes to be dug into the ground. The contractor will plan ahead for this obstacle.
Trees or Other Obstructions – If you have trees that need to be removed before the fence can be installed, they will add to your fencing installation costs.
Ways to Save on Split Rail Fencing
For homeowners on a tight budget, there are quite a few ways you can save a little money on the cost of split rail fencing.
Get a group of friends and do it yourself! – Be prepared for a bit of learning curve when you install your own split rail fence, and take the following precautions to prevent added costs.
Always measure the area twice and account for the 1 foot overlap needed between each set of fence posts. If you have 11 foot fence rails, 6 inches on both end need to be installed into the pockets on the posts. A common mistake is to dig all the post holes 11 feet apart. Measure twice, and install a few posts and rails before you dig all the post holes.
Rent a powered post hole digger – it will save you hours of digging labor and a sore back in the morning.
If you have an underground lawn sprinkler, make sure you know where the pipes are. It could result in an expensive call to your landscaper to fix a broken water line.
Recruit at least 2-3 good friends to help. You'll have quite a lot of wood fence posts and railing to carry to the area where the fence will be installed.
Make sure you check with local authorities to check for permits if needed.
Check your property boundaries twice! The last thing you want to do is mistakenly install your new fence 6 inches on the neighbors property. If needed, have the local authority come out and mark your property lines for you.
Call Dig Safe or whatever local company handles underground wire and utility location. Driving your post hole digger through a gas line is not only preventable, its very dangerous! Call 811 has a state by state list of utility location services. Most are free!
Take advantage of the slow season – Most fencing contractors are busy from spring through fall. As long as you live in an area that has a limited freeze, you can get a good deal on the installation in the off season. Of course, if you wait until there is snow on the ground, they may not be able to do the job until springtime.
Do your neighbors need a fence? – Ask them to split the cost of the portion that aligns with their property. After all, you're saving them a considerable amount of money by sharing the cost. In fact, if they DO need a fence, offer to barter installation help and do it the same weekend. You'll not only save on delivery and material costs, but the tools you need rent can be spread across both projects as well.
Offer yourself as a free laborer – Believe me, if you have 400 feet of split rail fence installed around your home, it's going to take a lot of labor to move all the materials into the yard. Many small contractors will gladly drop a few hundred dollars to have you help.
Always get competitive quotes from contractors – Like any other home improvement project, you want to get at least 3 competitive quotes for the same project. You may be surprised at the differences in cost to install your fence from one to the other, so make sure they explain everything on your estimates clearly. Use the link below to get up to 4 free quotes from qualified companies in your area.

Learn More about Split Rail Fences and Other DIY Resources
Homewyse – One of the leading consumer price guides on the web, Homewyse has a nice split rail fence price calculator to help you estimate your costs.
MyCarpentry.com – For the DIY'rs out there, they have a great step by step guide to install your own fence. The article is full of both images and video and details how to install a split rail fence, as well as outlining a few tips and cautions along the way.
Angies List – Learn how to avoid some of the common pitfalls when installing a fence around your home. Tips on what to watch out for, and how to make sure you don't make the mistakes as homeowners before you.
Tagged With:
fence
,
split rail fence
,
wooden fence