Heat Pump Installation Costs
Total Installation Cost Range:
$3400 - $8500
Average Materials Cost:
Average Labor Cost:
Avg. Time to Complete:
6-8 Hours for 2-3 Installers
Usually Includes: Complete Heat Pump System with Air Handler or Furnace. Installation Labor and All Supplies. Required Permits and Inspections. Removal and Disposal of Old Unit.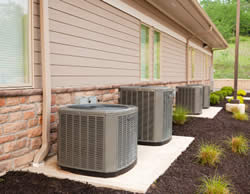 Air Source Heat Pumps are a major HVAC appliance that's used to control the indoor climate of your home. Just like a Central Air Conditioner, when a heat pump runs in cooling mode, it's designed to keep your home cool during the summer months. In addition to the cooling functions, heat pumps are matched to a forced air Electric, Oil, or Gas Furnace, that provides heating during the winter. Heat Pump systems are installed by heating and air conditioning contractors, and some plumbers who also specialize in HVAC work. In average homes, a heat pump system can be installed in less than 8 hours by a crew of 2-3 trained and qualified HVAC professionals.
In this Installation Cost guide, you'll learn about air source heat pump installation cost, and what prices you can expect to pay to have a complete system installed at your home or small office. Along with the average costs outlined below, we'll share information about special training, tools, skills, and other factors that can affect the costs. We'll outline some of the unwritten costs that are usually included in heat pump estimates, as well as things you can do to try to save on heat pump installation costs.
As always, we welcome participation and feedback from our customers. Please feel free to share your own experience on our Project Sound-Off area, where you can share with others what you paid for your latest home installation project.

Usually Included in Price Estimates
When a heating contractor provides you with a heat pump cost estimate, along with all labor cost needed to do the job, they usually calculate the price of the following items into the total cost. If you're unsure if the items below are included in a quote you recently received, ask your HVAC Contractor to itemize the estimate for you. (Click here for free estimates) Many of the items below are similar to those included in the cost to install central air.
Heat Pump Condensing Unit. – This is the big unit that is installed outside the home.
Indoor Air Handler or other Type of Forced Air Furnace. – This unit is installed in a utility closet, mechanical room, attic or in the crawl space under a home.
Evaporator Coil. – Usually installed inside of air handlers, or it may be separate and matched to the forced air furnace.
Refrigerant Lineset. – This is the insulated tubing (usually copper) that connects the condensing unit to the air handler or furnace.
Outdoor Mounting Pad. – Usually replaced at the same time as the condensing unit, it is the large pad installed and leveled under the unit.
Heat Pump Risers. – If you life in an area that gets snowfall of any kind, your heat pump may be installed on 4-12 inch risers, to prevent snow from building around the base.
Electrical Disconnect and Whip. – New electrical box to connect the outdoor unit to your main electrical panel.
Condensate Drain Connections and Piping.
Sheet Metal Transition. – This is used to connect the air handler to the existing duct system.
Flexible or Solid Duct as Needed.
Duct Sealers, Insulation, and Tape. – To seal and insulate new duct or existing duct disturbed during installation.
Refrigerant Needed to Fully Charge System. – Although the heat pump will be pre-charged at the factory, it may need a slight charge due to lineset length, etc. This is a normal part of the installation.
Local Permits and Inspection Fees. – Almost all cities and towns require a permit and inspection for new HVAC systems.
Along with the main items above, your heat pump installation price may include the following items as well.
New Programmable Thermostat.
Zoned HVAC Options.
Whole House Humidifier.
Duct Air Cleaner or Purifier.
Duct Cleaning or Replacement.
Tools and Equipment Used by HVAC Pro's
Heating and Air Conditioning Contractors are trained professionals and in many areas of the USA, you will be required to use one to install your heat pump system. In the case that you might be able to handle this as a DIY project, you will need the following tools and special equipment to complete the job correctly.
Truck or Van to pick up the new equipment and bring the old unit to the dump or recycling center.
Cart or Handtruck to move the outside unit around, they  anywhere 200 pounds or more.
MAP torch to braze the copper lines.
Vacuum pump to clean the line-set before releasing new refrigerant.
Nitrogen tank to test all brazing before releasing new refrigerant.
EPA 608 certification to get new refrigerant and handle the old unit refrigerant.
Electrical testing and repair tools.
Plumbing tools for working with copper and PVC pipe.
Sheet metal tools for cutting and bending sheet metal for the duct system.
Installation Cost Factors
Aside from the size and brand of the unit, there are several other factors that will affect the average heat pump installation price. These are mostly due to your home, the ease of access to your units, and the ability of your home to accept new technology.
Where is the indoor unit located in your home? If it's in an attic space or under the house in a crawl space, you can expect to pay slightly higher installation costs due to the difficulty to access the area.
Is your yard on a hill, or is the outdoor unit on a platform? If so, it may increase due to the difficulty in locating the outdoor unit to its installation place.
Is your outdoor unit on the roof? It happens… but mostly in commercial applications. If so, a crane may need to be rented to hoist the new unit up.
Are you installing the latest technology? High efficiency systems require additional wiring, ducting, and may require special venting of the furnace out of your home.
Type of Heat Pump being Installed. Air Source, Ductless, Geothermal, etc. Each has different needs.
What is the outside temperature? Don't laugh… if its cold or hot outside and the contractor is busy, they will add a premium to their installation prices, to account for them not really needing the work. The best time to replace HVAC is in March-May, or later in Sept-Nov, when contractors are not busy and need work.
How to Save Money on Installation Costs
Ask for a Discount! You never know if your don't ask!
Always get Competitive Price Quotes from at least 3-4 Companies. (Click here for free estimates from local companies)
Watch for Rebates or Special Offers from Manufacturers.
Use No Interest Financing to Pay for the System.
Remove and Dispose of the old Equipment Yourself.
Trade Your own labor for a Price Break.
Offer to Barter Your own Skills to the Company.
Check DSIRE database for Federal and State rebates or incentives.
Learn More about Heat Pump Installation
Along with our own highly informative guide to heat pump installation prices, we like to include a few additional resources to help our visitors learn more. If you made it this far down the page are prefer to read more before getting a free quote or comparing the costs of your own, please check the pages below. If you know of another great place, please suggest it to us , we may add it to the list!
Tagged With:
air source
,
heat pump
,
hvac
,
installed