Sod Installation Cost
Total Installation Cost Range:
$280 - $3,500
Average Materials Cost:
Average Labor Cost:
Avg. Time to Complete:
6-8 Hours, 2 Installers
Usually Includes: Sod, Labor, Tools & Supplies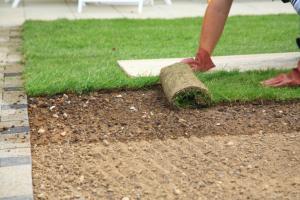 For homeowners that need or want to create an instant lawn,  installing sod can assure that you have a green and lush yard in about a day, depending on the size.
Sod is actual grass and can be purchased in squares or rolls and is used in a lot of new home construction.  Sod rolls are installed much like the rolls used in carpet installation, where proper installation includes making seams invisible.
Most often, sod installations should be performed by a landscape contractor and the cost is primarily based on how large the area is. An average rectangle yard of 2000 square feet usually takes 2 installers and about 6 to 8 hours. If there are steep slopes or odd spaces to be sodded, it may take longer because some work will have to be done by hand.
This installation cost guide, will help in giving you all the information you need to understand the overall cost to install sod at your home. You will also come away with knowledge on how to complete the job on your own, what you should have on hand and ways to save on the total cost of installing sod.
Items Usually Included in Price Estimate
Items included in estimates for sod installation:
Price of sod
Cost for laborers
Delivery of sod
Cleaning up after installation
Disposing of materials and any fees involved
The installation crew will have to use many if not all of the following tools and if its going to be a do-it- yourself project, you will need to have these items on hand as well.  Have the help of at least 2 people with this project, especially in the prep and cleanup phases.
Stakes/Lawn Pegs
Chemicals to kill your existing lawn
String
Typical hand tools or supplies (tape measure, pencil, paper, hammer)
Garden tools (sprinkler, garden hose, garden spade,rake)
Carpet knife
Sod Roller
Wheelbarrow
Things that Effect Cost
It will make a big difference if your yard has steep slopes or tight areas and it will probably effect your total sod installation cost . For example, if your lawn is a basic triangle and all areas have easy access to the machinery landscapers use to roll and seam your sod, it will cost less. But if they need an additional installer to hand lay and seam, it will cost you quite a bit more in labor.
Other factors include:
What size is your yard
Type of grass/sod used
If the contractor has to remove trees or bushes
Current workload on contractor
If your yard has steep slopes or tight corners
Are you going to "over-seed"
Save Money On The Installation
There are a few ways you can save on the cost of sod installation that we have outlined below.  For the most part, it would be best to have a professional landscaper complete the project because it will be done quickly, efficiently, and look much more professional. If you would like to save some money on the installation, consider these options.
Kill off your existing lawn, dig it up and dispose of it
Buy the sod directly from the supplier and have it on hand for the landscaper
Remove all roots, rocks or debris and level the area (per contractor instructions)
Ask the contractor to let you help with the project.
After installation, clean up the area and dispose of any debris
Learn More
Walter Reeves – Informative article that walks you through when you should level, how to remove bumps and level your yard for sod installation.
IScaper – Really video on how to install sod in your yard that covers prep work and seam rolling.
Sod Cutters – Seven quick tips that are useful for sod installation at your home. Covers how to buy sod and also the best way to lay it.
Share Your own experience with us by heading over to the user submission form, and email us with the information about your own sod installation cost.
Tagged With:
grass
,
lawn
,
laying sod
,
sod
,
sod price