Solar Panel Installation Cost
Total Installation Cost Range:
$6,500-$15,000
Average Materials Cost:
Average Labor Cost:
Avg. Time to Complete:
1-2 Days, 2-3 Installers
Usually Includes: 3500 Watt Solar Panel Kit, All Controls and Mounting Hardware, Installation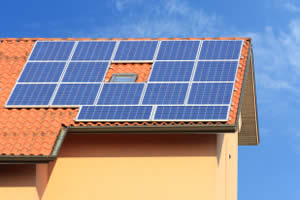 Living green is much more than just installing solar panels on your home, but it's one of the most common and affordable ways for homeowners to start living a more sustainable lifestyle. Solar panel installation cost will vary depending on several factors like the direction of your home, the type of solar panels you're having installed, the type and height of the roof on your home, and many other factors that your installer will discuss with you. In the past, it was popular to have solar panels installed to supply your home with hot water, now, a 3500 watt system can provide power to run a good part of an average home during the daytime and completely take you off the grid when the sun is up!
Solar panels installers usually include electricians, handyman,  general contractors, and the same company you purchased the solar panels from. If you purchased your solar panels online and need help installing them, you can get free estimates through our network of qualified handyman and professionals.
In this Installation Cost Guide, we'll outline the cost of installing solar panels in residential applications. Since there are so many sizes you can choose from, we decided to use a 3500 watt (3.5kw) system, which is enough to power the essentials in an average size home, during daylight hours. You'll learn how the cost can vary depending on the type of roof on your home, as well as the variables in the type of solar panels, and much more. In addition, if you are a DIY homeowners, we'll outline the tools and supplies you may need to do the job on your own, and what skills you may need to have in order to get the job done properly. Finally, if you have solar panels on your home, please consider sharing the cost you paid to have them installed.

Last Updated: 11/08/2012
Usually Included in the Installation Cost
When you buy solar panels or pay to have them installed, it's important to have the complete breakdown of what's included outlined in your installation or service contract. It will likely include the cost of the solar panels themselves if not purchased elsewhere, as well as:
Solar Panel Kit. (Solar panels may not be included if you purchased separately)
Electrical wiring, control panels, disconnect panel and connectors.
All direct mounting brackets or substructure needed to properly install solar panels.
Delivery to your home or installation location.
For roof mounted solar panel systems, Crane or lift fees to hoist panels to roof.
In addition to the parts, materials and equipment, you can expect to need the following tools and skills to install solar panels.
Truck to pick up and deliver the solar panels.
Ladder(s) tall enough to reach the roof of your home.
Ropes, a Crane, or a lift system to raise the solar panels onto your roof.
Basic hand tools like Hammer, Tape measures, rulers, drills, etc.
Roof repair skills to assure the roof does not leak after installation.
Electrical tools for running, stripping and handling electrical wire in a home.
Factors that Effect Cost to Install
In some cases, you will be charged a higher rate for solar panel installation. The following factors can add to the cost as well as the difficulty and time it takes to complete the installation.
Height and Pitch of Roof – If you have a 2-3 story home, the cost to get the panels onto the roof as well as increased safety factors must be taken into consideration. In the case of single story homes, most of the time the panels can be lifted to the roof without the need of a crane or powered lift. On 2-story or higher, that may not be an option.
Type of Roofing Shingle – If you have asphalt shingles, the mounting kit can be easily installed and sealed back off. If you have an exotic roofing material like clay tiles or slate roofing, the cost to repair the roof after the solar panels are installed will be higher.
Type of Solar Panels – The latest technology in Photovoltaic solar panels will cost more to install. They may require a higher degree of skill to make sure the system is properly connected and works correctly.
Fixed Versus Mechanical Mounting System – Some solar panel kits are installed so they follow the exact direction of the sun, and stay in direct sunlight all day long. These tracking units are more advanced and require a more detailed installation.
Distance to Electrical Service Panel – The cost of copper in the wiring is expensive and there can be a considerable increase in price for 2-3 story installations, as well as solar panel installation that are long distances from the control and service panels.
Ways to Save Money on Solar Panel Installation Costs
There are several ways you can save money on the cost to install solar panels to your home. From doing the entire project yourself, to helping the crew do the work, you really have several ways to save money.
Tax Credits or Rebates on Renewable Energy (Energy.gov or DSIRE Solar Database)
Buy a Complete Solar Kit Online and Install it Yourself – Installing your own solar kit does take some skill and we recommend you still use the services of a licensed electrician (get free estimates) to handle the connection to your homes electric service panel.
Work with the Contractor As a Helper – Although they may not want you on-site helping (homeowners tend to get in the way), some contractors will allow homeowners to help out for a slight reduction in the total solar panel installation cost..
If you know other ways to save money on solar panels, please share them with us! We'll gladly add them to the list.
Resources for DIY or Further Reading
If you have other great resources for solar installation, please share them with us to share with our visitors.
Tagged With:
green energy
,
solar
,
solar panel kits
,
solar panels