Attic Fan Installation Cost
Installation Cost Range:
$350 - $750
Avg. Time to Complete:
3-5 Hours, for 1 Installer
Usually Includes: Attic fan, Installation Hardware, Supplies and Labor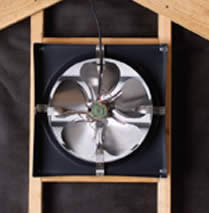 Attic vent fans, whether they are gable mounted, solar powered, un-powered, or roof mounted, are installed in the attic space of your home to circulate and vent the hot air from the attic during the summer months. Attic fans also promote better air circulation and ventilation all year round. Attic fans are often installed by Handymen, Electricians, Roofers or HVAC Contractors in less than 4 hours, and are often taken-on as a DIY project by fairly handy homeowners as well. It's very common to have an attic fan installed at the same time as your central air conditioner, furnace or heat pump, or even when you have a new roof installed.
In this Installation Cost Guide, we'll help you understand what to expect when you have an attic fan installed in your home. We'll cover the most common tools that are used during the project, ways you can save money, as well as the items usually included in the attic fan installation cost.
Items Usually Included in Installation Price
The items and tasks below are usually included in the cost to install an attic fan. Since there are several types of attic fans, we'll mention it when an item is only applicable to a specific types.
Properly Sized Attic Fan, regardless of the type
Solar Panel (for solar powered models)
Louvered Vents (for gable mounted fans, if applicable)
Scrap pieces of plywood to seal all areas around fan.
Shingles and metal flashing (as needed for roof mounted fans)
Electric wiring, junction box, switch and electric supplies as needed
In addition to parts and materials above, the cost to install an attic fan also includes use of the following tools, commonly used by the tradesman who installs an attic fan. If you choose to take on the installation as a DIY project, you would need to have these tools on hand, as well as understand how to use them safely.
Typical hand tools (screwdrivers, powered drill, tape measure, etc)
Reciprocating or circular saw
Ladder tall enough to have roof access, and/or gable access for mounting louvers where needed
Electric circuit tester and tools for working with electrical wiring
Factors that Can Effect the Installation Cost
Depending on your home, your availability and the person installing your attic fan, there are several factors that can increase the price you pay.
Your Availability – If you are only available in the afternoon or late in the day, it can be excruciatingly hot inside your attic. Make yourself available as early in the day as possible to avoid a worker being in the attic after 11am.
Type of Attic Fan Being Installed – Attaching a gable fan to the peak on one end of your roof is a pretty easy process. Cutting a hole between two rafters and repairing the shingles so they never leak is a lot harder.
Height and Pitch (slope-angle) of the Roof – If you have a single story home, there are fewer safety issues with being on the roof. However, if the contractor or person who installs an attic fan has to rig up safety lines on a three-story steep roof, the cost is going to rise accordingly.
Availability of Electricity in Attic – If an electrician needs to run a new electric line to your attic, there will be a cost associated with it.
How to Save on Installation

In order to save money when you have an attic fan installed, you can use one or more of the following methods.
Purchase the attic fan and supplies yourself
Install the unit yourself as a diy project
Have the fan installed at the same time as other home improvements
Learn More about Attic Fans & Installation
If you want to learn more about how attic fans work, how they may benefit your home, how to install an attic fan yourself, or if you just want general information about attic fan, we have compiled the following resources below.
Horizon Energy of Phoenix – Has an in-depth article with pros and cons of attic fans.
Oikos – Article from Energy Source Builder website, that can help you understand more about effective attic ventilation.
Popular Mechanics Magazine – Has a well written and illustrated guide to DIY installation of your attic fan.
Easy2DIY – Another well written tutorial with video and images, for homeowners considering a self installation of an attic fan.
We like hearing from our readers. Please share your experience with attic fans, by heading over to the user submission form, and emailing us with the information about your own attic fan installation cost.
Tagged With:
attic
,
attic fan
,
attic vent
,
fan
,
gable attic fan
,
hvac
,
power attic fan
,
solar attic fan