Drywall Installation Cost
Total Installation Cost Range:
$250 - $2,160
Average Materials Cost:
Average Labor Cost:
Avg. Time to Complete:
6-8 Hours, 2 Installers
Usually Includes: Drywall, Installation Hardware, Supplies and Labor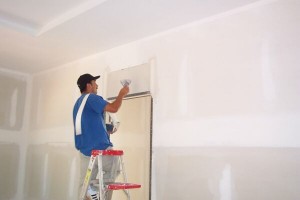 Commonly called sheet rock or wall board, drywall is used in homes and buildings to make sure you have sturdy walls and ceilings. Drywall is used so you have a flat ceiling or wall for paint or wallpaper installation.  Drywall installation is one of the most important elements in home building and usually takes specialized skills and tools. Most drywall installations are best performed by a drywall installer or handyman and the cost is calculated "per sheet" that they hang. A typical 12 x 12 room can be installed in 6-8 hours, usually requiring 2 installers.
In this installation cost guide, we will help by giving you detailed information on the installation process, tools, skills and other factors that could effect the cost to install drywall. You'll also understand more about which items are usually included in the cost of drywall installation.
Items Usually Included in Price Estimate
The following items are usually included in most drywall installation estimates:
Cost of the drywall
Parts, tools and supplies
Labor costs
Delivery costs
Prep and cleanup
Disposal fees
In addition to parts and materials above, the cost to install drywall may also include the use of the following tools and supplies, commonly used by the handyman or drywall installer. If you choose to make this a do it yourself project, the list of supplies is extensive, but you want to make sure you are prepared when trying to install drywall yourself.  You will need help with this project because drywall sheets are very heavy. Plan to have at least 2 helpers.
Typical hand tools (utility knife, measuring tape, hammer)
Special 1 1/4″ drywall screws
T-square
Drywall saw
Rotary cut out tool
Drill
Ladder
Drywall lifter to hold heavy drywall pieces (especially needed on ceiling drywall installations)
Circle cutter (if you will be installing recessed lighting)
Joint compound (drywall mud)
Sanding blocks
Drywall tape for seams
Various drywall or putty knives: 6" knife, a 10" knife, and a 12" knife
Metal cutting snips
Dust mask
Factors that Effect Installation Costs
There are quite a few factors that will effect your total drywall installation cost. The size of the area and whether your job will be a repair, replacement or drywall installation on a new project.
Other factors include:
What size and type drywall you choose
How high your ceilings are
If there are odd angles or arches in the room that will cause more cutting, taping and sanding
Save on Installation Costs!
If you would like to save some money on the cost of drywall installation, there are a few ways you can do it. For the most part, you should have a professional drywall installer complete the job, but consider these factors to help save some money.
Prep the area yourself. This is one of the most time-consuming elements of drywall installation.
Compare prices for drywall, purchase yourself and have on site for the installer.
Volunteer your help with the project.
After installation, clean up the area and dispose of waste yourself.
There are several items that could either raise or lower the cost to install drywall and you should contact multiple handymen or drywall installers for several price quotes.  Do research in advance so you can ask each contractor educated questions. You want to make sure that the contractor will be properly preparing your area in advance of the installation to reduce dust/dirt circulation in your home. In addition, they should thoroughly clean up the area after the installation.
Learn More about Drywall Installation
To learn more about the process of installing new drywall, issues that could arise if you make this a do it yourself project, or the best way to get drywall installation cost estimates from various contractors, view some of the links below.
Drywall-How-To – Very informative website that steps you through every part of drywall installation, from estimating the cost, prepping your area and installing your drywall.
Bob Formisano – Detailed steps that walk you through repairing a large hole in your drywall.
Wonder How To – Complete set of video tutorials that show you every step in the drywall installation process.
It's always great to hear about other homeowner experiences! Have you had a drywall installation recently? Let us know how much it cost at our user submission form and give others a few tips!
Tagged With:
dry wall
,
drywall
,
sheetrock
,
wallboard