Hardwood Floor Installation Costs
Total Installation Cost Range:
$6 - $12 / sqft. Or $1,200 - $2,400 for a 190 sqft room.
Average Materials Cost:
Average Labor Cost:
Avg. Time to Complete:
1-3 Full Days, 1-2 Professional Flooring Installers
Usually Includes: Unfinished Hardwood Flooring, Installation Supplies and Materials, and All Labor To Remove the Old Flooring and Install New Premium Hardwood Floors.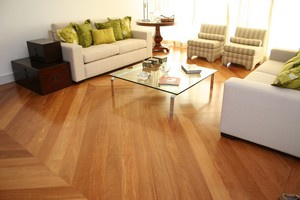 One of the most popular home improvement projects, is to install hardwood floors in the main living area, or throughout your entire house. While the cost to install hardwood floors is not cheap, and the installation is a moderately difficult project for a home owner to do on their own, hardwood floors provide the highest return on investment of almost any other project around the house!
Hardwood floors are installed by flooring professionals, a handyman, and often times, general carpenters. Prefinished, or engineered hardwood flooring is easiest to install, and most single rooms can be done in one day, with just 1-2 workers. Unfinished hardwood floor installation costs tend to be higher, since they require onsite sanding, staining and polyurethane coatings, can take several days to finish and often require more labor.
Let's talk about hardwood floor installation costs in this Installation Cost Guide!  We will help you understand a bit more about the installation process for wood floors. We'll share items usually included in the installation cost, the various skills needed,  the tools that will be used and other factors that may affect the cost of having hardwood flooring installed at your house. Finally, we'll share several resources for you to visit and learn more about hardwood flooring, installation articles for DIY'ers, and the costs of having the flooring installed by a pro.

Items Usually Included in the Quote
Usually included in most hardwood floor installation estimates are the following items. Make sure you always ask your flooring contractor to provide a detailed and itemized installation cost estimate.
Hardwood Flooring (If you are not supplying yourself) – Can be unfinished flooring or prefinished, engineered hardwood flooring depending on the type you choose to have installed.
Replacement Trim Moldings and Shoe Molding.
Removal and Replacement of all Furniture into Other Areas, or a Portable Storage Unit.
All Fastener, Nails and Adhesives as Needed.
Removal and Disposal of Old Flooring or Carpeting.
Subfloor and Underlayment Preparation and Supplies. (Varies, based on the type of flooring selected)
All Labor to Deliver and Install New Hardwood Floors.
Sanding and Finishing where Applicable.
Stain and Polyurethane as Needed. (May include several coats)
In addition to the cost of installing hardwood floors, you may have extra expenses you didn't count on. These includes 2-3 days of being displaced from your home, since you won't be able to walk on the floors. Many homeowners simply stay with friends or relatives, however an extended stay hotel is also an option. Having the hardwood floors installed while you're on vacation is also a good idea.
Along with the main items included above, we have compiled a list of supplies used most common by the flooring installer. Completing this as a DIY project? You will want to be prepared when trying to install hardwood flooring by yourself. Since this is a large project, we'll probably miss a few of the tools you'll need.
Basic Cleaning Supplies – Brooms, brushes, etc.
Basic Hand Tools – Hammer, tape measure, nail punch, various chisels, drill and bits, small hand saw, etc.
Jig Saw or Power Cutoff Tool.
Circular Saw or Compound Miter Box Saw.
Compressor and a Nail Gun.
Specialty Flooring Nailer.
Trowels or Spreaders for Laminates and Engineered Floors.
Factors that Can Increase Installation Costs
There are many things that can affect the price you pay for the flooring, as well as the actual hardwood floor installation costs. Review the list below and if you have others to add, jump into the comments section below.
Type of Flooring being Installed. (Engineered, Laminate or True hardwood)
The Weather – Hot or cold temps can delay your project for staining & finishing. (you can't run the central air, heat pump, or furnace – dust, flammable fumes, etc)
Size of the area where the flooring is being installed.
Stairs, Corners and Odd Shaped Rooms.
In addition to the things that can add to the cost, when you install hardwood flooring, it's a good time to consider other projects that you could save some money on by doing them together. If you have a forced air HVAC system and want to add a vent to the floor, now is the time. If you have considered adding a door to the back of your home, it's the perfect time to install a patio door as well.
Save On Flooring and Installation Costs!
Saving money on the flooring and installation is not that hard. You can even break the project into two separate tasks if it's easier. Choosing your own flooring, then having it installed. If you choose to purchase the flooring yourself, make sure you measure the area properly and buy at least 10% over for waste. In fact, it may be worth your time to get estimates in advance, that can tell you how much flooring will be needed.
Buy the Hardwood Flooring Yourself at Places like Lumber Liquidators, Lowes or Home Depot.
Prepare the Area Yourself. This is very time-consuming but an integral part of hardwood floor installation. Remove the old carpets, disposal, etc.
Ask the Contractor to let you help with the project. Some may charge more… just saying.
Stain and Seal the flooring yourself.
After Installation, clean up the area and dispose of unused materials yourself.
Learn More about Hardwood Floor Installation
Whether you decide to brave the challenge and install your own flooring, or just want to learn more for reference value, the websites below are a great resource for hardwood flooring installation.
One Project Closer – Very entertaining and informative guide to hardwood floor installation (with pictures!)
Shaw Flooring – Right from the source of hardwood flooring, they have several guides to help you understand how hardwood floor installation is done.
The Home Depot – not only can you buy your flooring there, but they have a pretty good series of articles to help you install it yourself. If that's not your preference, they offer installation services as well.
Fine Home Building (Membership Required) – They have a fantastic video series that outlines each step of installing your own hardwood flooring.
HomeTips.com – Once again, we find that Dan Vandervort has another excellent series on installing hardwood flooring. Make sure you tell him we sent you!
Have you recently had hardwood flooring installed at your house? Maybe you just got a price quote and ran away screaming! Tell us about it, join the discussion below or share it with us privately. We may use your information in future articles.
Tagged With:
hardwood
,
hardwood floors
,
wood floors