Ceiling Fan Installation Cost
Installation Cost Range:
$250 - $750
Avg. Time to Complete:
1-2 Hours, 1 Installer
Usually Includes: Ceiling Fan, Installation Hardware, Supplies and Labor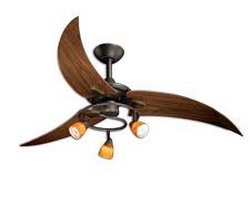 Ceiling fans have become commonplace in most homes primarily due to the aesthetic value to your room. But ceiling fans are also very useful in keeping air circulated throughout your home, which in turn, may allow you to breathe cleaner air, reduce the load on your central air conditioner, and keep your energy costs down. Just like an attic fan, most ceiling fans should be installed by an electrician, especially if there will be a need for the addition of electrical outlets or wiring. For the most part, a ceiling fan can be installed by an electrician within 1-2 hours and usually requires only one installer.
In this installation cost guide, we will help you by providing information on the installation process, tools, skills and other factors that may effect the cost of having a ceiling fan installed. You'll also understand more about which items are usually included in the cost of installing a ceiling fan.
Items Usually Included in Price Estimate
The following items are usually included in most ceiling fan estimates:
Cost of the ceiling fan you choose
Electrician labor costs
Electrical Parts, tools and supplies
Any wiring that may need to be done
Additional support bracing within the ceiling, to support the weight of the fan
In addition to parts and materials above, the cost to install a ceiling fan also includes use of the following tools, commonly used by the contractor who installs ceiling fans. If you choose to take on the installation as a DIY project, you would need to have these tools on hand, as well as understand how to use them safely.
Typical hand tools (wire strippers, hammer, drill, screwdrivers, tape measure)
Drywall and Paint (if the attic is not accessible)
Ladder tall enough to reach the ceiling or in the case of vaulted ceiling, much taller.
Drywall saw when there is no attic access
Caulk gun for sealing
Electric circuit tester and tools for working with electrical wiring
Factors that Effect Installation Costs
Different factors will effect your total ceiling fans installation cost. Which ceiling fan you purchase, where it will be placed and if you have a need for additional electrical services.  For example, if you need to install ceiling fans on a ceiling that is vaulted, has sharp angles or is otherwise difficult to access, the electrician may add additional installation costs. In addition, if there is no access to your attic, your ceiling may need to be cut which will require drywall and paint for repair.
Other factors include:
Size of the ceiling fan
Type of ceiling – drop ceilings require more work
Current workload on contractor
Changing or adding electrical wiring and boxes
Strength of the junction box and whether it can support a fan or not
Save on Installation Costs!
Most of us would like to save even a little money on the cost of ceiling fan installation. For the most part, you should have an electrician install a ceiling fan for you, but there are a few ways you can save some money, especially if you choose to do the project on your own.
Compare prices and purchase the ceiling fan online or at a discount store.
Sell your old ceiling fan on Craigslist, eBay or a yard sale. This could offset the price of your new ceiling fans.
Ask the electrician to let you help so you can learn more about working with electricity.
There are a few things that will either raise or lower the cost to install ceiling fans and your best bet is to contact electrical contractors for multiple price quotes. Make sure you do your research in advance so you know what questions you should be asking each one.
Learn More about Ceiling Fan Installation
To learn more about the process of installing a new ceiling fan, problems you might run into by doing it yourself, or how to compare ceiling fan installation cost estimates from various contractors, view some of the links below.
One Project Closer- Step by step instructions on how to install a ceiling fan mount bracket and electrical box. They outline how to install a ceiling fan box between joists and what tools you will need for the installation.
SF Gate – Hanging a heavy ceiling fan while on a ladder is not easy, but SF Gate shows you how to wire a ceiling fan quickly and easily.
Dummies.com – Easy to understand instructions for installing a ceiling fan written by the author of many "dummies" books.
Share Your own experience with us by heading over to the user submission form, and emailing us with the information about your own ceiling fan installation cost.
Tagged With:
ceiling fan
,
fan
,
hvac