Chimney Liner Installation Costs
Total Installation Cost Range:
$850 - $1,600 for Stainless Liner Kit Installation
Average Materials Cost:
$175 - $400 Stainless Steel Liner
Average Labor Cost:
$400 - $1,250
Avg. Time to Complete:
6-8 Hours, for 2-3 Installers.
Usually Includes: Chimney Liner Kit, Delivery to Jobsite, Permits & Inspections as Needed, All Labor, Tools, and Supplies to Complete the Project.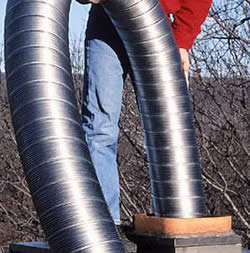 Chimney liners are installed into the flue of your brick or masonry chimney, to restore a sealed vent system in your fireplace or main heating system vent. Chimney liners used today are most commonly made of flexible stainless steel or double-wall b-vent, and are a cost-effective way to repair old smooth mortar walls, or clay flue systems that have decayed or rotted over many years of use.
The installation of stainless steel chimney liners is a popular do it yourself project for uncomplicated roofs, but they are also installed in 6-8 hours by a handyman, HVAC professionals, chimney sweeps and more. There are important safety issues that need to be addressed when taking this on as a DIY project, such as climbing on a roof and working on a precarious position on the side of the chimney. It's not a project for anyone with a fear of heights or a very steep roof pitch. In addition, if you have to reconnect gas or oil fired appliances to the flue, carbon monoxide is a concern. Always have your work checked by a pro!
We will look at chimney liner installation costs in this Installation Cost guide, what is usually included in price quotes, as well as who to contact to get a chimney liner installation estimate.
Usually Included in the Installation Cost Estimate
When you contact a company to install a chimney liner into your flue, you should expect the following things to be included in the cost. If the written estimate they provide does not outline everything they are providing, ask them to clarify and itemize the written estimate.
Flexible, Single or Double Wall Chimney Liner.
Insulation to Wrap Chimney Liner as Needed.
Chimney Cap and Screen Kit.
All Adapters, Connectors and Fittings.
Chimney Inspection and Cleaning (Cleaning may or may not be included, but always recommended).
Removal and Disposal of Old Liner if Needed.
All Labor, Tools and Supplies to Install new Chimney Liner.
Tools and Common Expenses Other than the Obvious
Aside from the actual chimney liner, the attachments and other hard goods used to install it, if you decide to take on the project yourself, you'll need the following tools and supplies:
Common hand tools like hammers, screw drivers, drills, pry bars, razor knife, etc.
Safety gear like protective eyeglasses, heavy-duty work gloves, roof safety harness, etc.
Ladder(s) to get onto your roof.
Chimney brush kits to clean out your chimney before installation.
Heavy duty commercial grade vacuum to keep dust to a minimum.
Factors that Increase the Cost
As you try to determine whether having a chimney liner installed at your home is going to cost more or less than your neighbors, here are a few things that can easily increase the cost of installation.
Multi-level homes. Plain and simple, if you have a 3-story chimney, the length of the liner is going to be longer.
Steep pitch on roof – If the installer needs to work on a hazardous steep roof, you'll pay more.
Number of connections – Each gas or other vented appliance you attached to the flue, needs to be fitted and sealed.
Type of Flue – if the installer uses a flexible liner, versus a solid wall, or doublewall flue kit, it could cost less.
Tips for Saving Money on Installation
There is always a way for you to lower the cost of a Chimney liner. Of course, the most obvious is to do the project yourself, but as we previously mentioned, if you have any problems with ladders or being on a roof, you might want to reconsider.
Do it Yourself! (Great video how-to below)
Buy a Chimney liner kit when its on sale and install it at a later date.
Combine the project with others, like during furnace installation, or a water heater replacement, vented gas fireplace logs, etc. By adding more work, the company can shave the price of the combined project lower.
Complete the project during the slow months of Sept-Oct, or even in the early spring. Most contractors are slowest during this time frame, and will do work cheaper.
Resources for Chimney Liner Installation
Angies List – AngiesList has a very informative guide for helping homeowners avoid common repair and chimney liner scams.
The Old House Journal – Learn all about Chimney liners, the various types of liners and choosing the right type for your home.
Chimney Safety Institute of America – Learn the main purposes of a chimney liner, as well as the three main types you can have installed to yours. The CSIA also maintains a list of contractors that have qualified as capable for working on your chimney safely.
Ask the Chimney Sweep – Clay has a basic, yet detailed overview of the cost range to have a liner installed in your home, with good discussion in the comments section.
Thorough Installation Video from Chimney Liner Deport
Tagged With:
chimney
,
chimney liner
,
fireplace
,
flue liner
,
furnace vent