Garage Door Installation Costs
Total Installation Cost Range:
$750 - $1,400 Per-Car Space In Garage
Average Materials Cost:
$400 - $1500 Per Space
Average Labor Cost:
$350 - $750
Avg. Time to Complete:
4-6 Hours for 2 Installers
Usually Includes: Basic Garage Door and All Hardware, Labor to Remove, Dispose of, and install New Garage Door.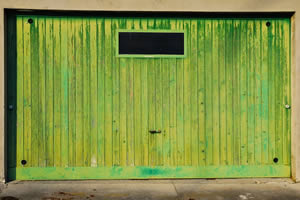 Having a garage to park your car out of the weather is a significant feature on some houses, but when the garage door breaks or it's time to replace the entire garage door, where do you turn for help with spring or garage door replacement? If you've ever tried to repair the springs on your garage door you know what a chore it can be. In most cases, you are better off calling a handyman or dealing direct with a door company for affordable garage door installation cost or spring replacement cost.
In most cases, a garage door can be installed (or repaired) by a handyman in just a few hours with one additional helper. They can do everything from replacing the springs to connecting your garage door opener if you have one. In the end, you'll be guaranteed a worry free system that lets you get in and out of the parking area without worry of the garage door breaking and damaging your car.
In this Installation Cost Guide we will discuss garage door replacement costs. We'll cover whats usually included when you get a price quote for a new garage door installation, as well as the various costs for spring replacement, garage door openers installation, and much more. In addition, we're going to help you understand what it might take to install your own garage door. What kind of specialized tools or skills you might need to have, and what factors can cause the cost of garage door replacement to go up.
Help from the Pro's – If you are an installer, we'd love to hear from you. Please consider joining the discussion and sharing any tips of your own as they relate to garage door replacement costs, or the various topics on this page.

Last Update: 11/30/2012
Usually Included in the Estimated Cost
When you get a quote for a new garage door installation on your home, it will usually include the following items in the list below. If you're unsure about exactly what's included in the cost, make sure you ask for an itemized estimate in advance of the company starting any work. Always make sure you get at least 3 quotes to compare costs and items included. (Click here for free, competitive quotes)
New Garage Door Cost and all Basic Door Hardware. (Biggest cost variable is in the doors)
Side Tracking Rails and Wheels.
New Garage Door Springs.
Removal and Disposal of Old Garage Door.
All Installation Labor (At least 2 people) to Install Garage Door.
Wood or Lumber Needed to Square and level Door.
Touch Up Paint or Siding Repair.
New Garage Door Floor Seal.
Tools and Hidden Expenses
Along with the basic task of installing your new garage doors, the installer will use the following tools and supplies to complete the job.
Truck or Work Van – To deliver the new garage door and haul off the old door to the dump.
Step Ladders – Two will likely be needed to remove the springs and old hardware.
Carpenter Horses – (Optional) to set up the new door and hardware.
Power Drill or Driver – (Corded or cordless) To fasten the hardware to the new door. Not required, but sure makes it easier!
Power Saw – To trim lumber and finish materials as needed.
Basic Hand Tools – Hammers, screwdrivers, tape measure etc.
Factors that Increase Installation Costs
Of course, it's impossible to estimate the exact cost without being onsite. However, there are a few things will definitely increase the cost of garage door installation at your house.
How many doors do you need? If you have a 4 car garage, you'll need up to 4 doors, so expect to pay more for each parking space in your garage.
Do you want windows on the doors? Features like windows or fancy hardware add to the cost.
Are insulated garage doors important? If you live in an area where it makes no difference, choosing standard uninsulated doors can save money.
Curb appeal of the new doors – If you want a carriage style door (swings versus rises) you can expect to pay a higher cost for both the doors and the installation.
Do you already have garage doors? If you're installing garage doors on an open bay, expect to pay a bit more for hardware fitting, etc.
Time of year – Winter months are the slow months for home improvement projects. If you call for a new garage door installation in mid spring, expect the cost to rise accordingly based on the workload of the company or handyman doing the project
Ways to Save Money
The most popular way people save money on your new garage door is by doing the job yourself! Putting in the new door is not that hard, in fact, many people do most of the work on their own and simply call in a pro to get a quote for the garage door spring installation cost. Putting the springs on is the hardest part and must be done right. Here are a few ways to save, add your own in the comments below.
Do the project yourself!
Remove the old door and sell it if it's not in bad shape.
Avoid buying any special features or fancy hardware.
Choose an uninsulated door versus the more expensive models.
Learn More about Garage Door Installation
For the DIY'er in you, there are many places to learn more about installing your own garage door. In fact, you can head to Lowe's or Home Depot, but a garage door yourself and have it installed in less than 1 day as long as you know what you're doing. Have a look at these resources for Garage door installation, and if you have a place you think we might like to share here, please contact us and let us know.
DDM Garage Doors – In the chuck-full-o-links category, DDM has a page full of great tutorials on installing your own door.
The Home Depot – What a great page by the Home Depot that covers everything choosing a door to match your home, where to buy or order a new order and much more. They even cover a bit on the DIY installation side of it.
Mesa Garage Doors created this helpful video for installing a door on your own. It really goes into the things you'll need to learn about or be comfortable doing at the DIY level.
Tagged With:
doors
,
garage
,
garage door
,
garage door springs
,
garage opener