Toilet Bowl Installation Cost
Total Installation Cost Range:
$400 - $1000, Depending on New Toilet
Average Materials Cost:
$75 - $250
Average Labor Cost:
$350 - $750
Avg. Time to Complete:
3-4 Hours, for 1-2 Skilled Installers
Usually Includes: New Toilet, New Wax Ring(s). Removal and Disposal of Old Toilet. New Seat and Water Supply Tubing. All Labor and Materials to Complete Toilet Replacement.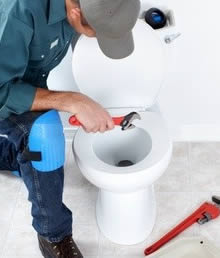 Everyone knows that the toilet bowl is the most important seat in your house. Whether you call it a toilet, a commode or a porcelain throne, when the toilet bowl breaks down, everything else in your home needs to stop immediately to get it replaced or repaired! In most cases, a handyman or plumber can be in and out of your home in about 4 hours or less, and the complete cost to replace a toilet averages less than $750, depending  on the type of new toilet you want them to install.
This Installation Cost Guide, will help to flush all your fears away (I know, bad joke, not even funny) and help you learn about the cost to replace a toilet in your condo or home. We'll cover what should be included in your toilet replacement estimate, approximately how long it will take to replace the toilet, as well as the types of issues that can cause the cost of toilet replacement to add up.
As always, if you're a plumber or handyman,  or recently had your home toilet replaced by one… please share your experience in the comments section of this page. We do our best to represent a rough estimate of new toilet installation costs, and feedback from our visitors helps us get it right!

Usually Included in Cost
When a Pro comes out to install a new toilet in your bathroom, the items below are usually includes. If you're unsure whats included, ask them to itemize the cost estimate.
New toilet, seat and lid.
Wax ring(s) as needed to seal toilet to flange.
New water line connection.
Removal and disposal of old toilet.
All hardware to connect toilet to existing flange.
All labor to complete the job.
Other Things that May be included
In addition to the toilet, these items might also be included in the cost to replace a toilet.
Drain line cleaning.
Minor floor repairs. (under toilet)
Touch-up paint on wall behind toilet tank.
Specialized Tools, Supplies or Equipment
A Handyman or Plumber needs the following types of tools to replace a toilet.
Common hand tools like a hammer, wrenches, and a small putty scraper.
Small hand pump to remove water from tank and bowl.
5 gallon buckets and rags.
Hacksaw to cut bolts after installation.
Caulking gun.
Pipe thread sealant tape or pipe dope.
Factors that Effect the Installation Cost
It's not uncommon for a leaking toilet to cause other, hidden damages in the bathroom. These things can increase the toilet replacement cost, and extend the job to other contractors as well.
High quality replacement toilet. Believe it or not, you have options for toilets as well. From guaranteed no-clog, to warm seats and automatic lid open/closers, the higher quality options cost more money.
Broken mounting flange. The flange secures the toilet to the waste line, and need to be intact. These can be repaired by the plumber doing the job if broken.
Wood rot from extended leaking. If the floor has rotted under the toilet, you may need to call in a handyman or carpenter to repair the floor.
Vinyl or Tile flooring. If the finish flooring is damaged, you may want to call in a flooring expert to have it repaired.
How to Save on Toilet Installation
the project yourself – Toilet replacement is a common handyman job.
Supply your own replacement toilet – If the plumber does not need to drive to a hardware store to pick up and deliver a new toilet, it saves time and money.
Dispose of your old toilet yourself, or use it as a planter in the yard – Just kidding, but you can bring it to the dump on your own. Again, any time you can save for the plumbing company, equals money in your pocket.
Do you know more ways to save on toilet installation costs? Please share them below.
Learn More about Toilet Replacement and Installation
We know we can't provide all the details about toilet replacement. Check out these other great pages about replacing a home toilet.
Brownstoner – Join an aging discussion about toilet replacement costs from a group of homeowners and plumbers.
CostHelper – Has a page full of comparison prices from people around the country.
The Family Handyman – The toilet section contains a series of articles about toilet repair, replacement and much more.
Do you have a great page about toilet repair, replacement costs or DIY toilet installation? Share it with us, we may add it to the list!
We're not a fan of having carpet installed in a bathroom, but the video below is very informative.
Tagged With:
new toilet
,
replacing toilet
,
toilet
,
toilet bowl
,
toilet costs
,
toilet installation